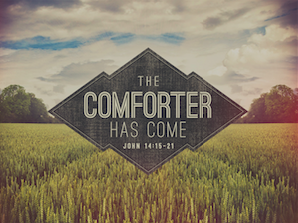 Have you ever gotten to a place where the load is so heavy, the burden so great, and the battle so intense and long that you feel you don't even know how to pray? Take courage, the Bible says "the Spirit also helps our weaknesses. For we do not know what we should pray for as we ought, but the Spirit Himself makes intercession for us with groanings which cannot be uttered. Now He who searches the hearts knows what the mind of the Spirit is, because He makes intercession for the saints according to the will of God" Romans 8:26-27. The Greek word for "groanings" here means "a sigh". On another occasion the Apostle said "I will pray with the spirit, and I will also pray with the understanding" 1 Corinthians 14:15. So whether He enlightens our understanding in prayer or whether He intercedes through us in words or sounds unintelligible to us, be assured that He is interceding according to the Father's will for us! And there may even be occasions when He leads you to a time of silence before God. There were times when Israel was told to move forward in battle as in Joshua 8:1 and 2 Chronicles 20:17, and other times when they were to "stand still and see the salvation (deliverance) of the Lord", Exodus 14:13. Someone said that "when God says be still He is about ready to move on our behalf." In John 14:16 & 15:26 Jesus refers to the Holy Spirit as the "comforter (Counselor, Helper, Advocate, Intercessor, Strengthener)" Amplified Bible. Outside of Biblical literature the same word is technically "an attorney who appears in court in another's behalf." Be assured that when we allow Him to take our case, victory according to God's will is certain.
Our Helper
By Rose Hill
We have a wonderful helper indeed,
That prays for us according to our need.
The Spirit of God helps when we are weak,
If with all our heart the truth we seek.
When we do not know how to pray,
We can count on Him to show the way.
And intercede according to God's will,
His message to us is to be still.
God will search what the mind of the Spirit is,
And bring the good to those who are His.
Unless otherwise noted Scripture quotations are form the New King James Version copyright by Thomas Nelson Co. Used by permission.