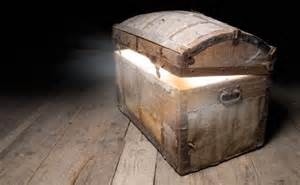 The Bible speaks of treasure in numerous places. Two identical verses appear in Matthew 6:21 and Luke 12:34, both are the words of Jesus Himself saying, "For where your treasure is, there your heart will be also." So real treasure is what we view with the highest value. The Greek word translated treasure that is used here by Matthew and Luke means a deposit, or wealth; while Webster's definition of our word treasure is wealth, and anything or anybody considered valuable. A very interesting verse is found in Isaiah 33:6 where the Amplified Bible says, "And there shall be stability in your times, abundance of salvation, wisdom and knowledge; the reverent fear and worship of the Lord is your treasure and His." Indeed 2 Corinthians 4:7 says "…we have this treasure in earthen vessels…" Then Psalm 135:4 says, "…the Lord has chosen Jacob for Himself, Israel for His special treasure." In the Old Testament Jacob and Israel refer to all or part of the Jewish nationality or, national Israel. But in the New Testament Jesus brings all nationalities into one family; Galatians 3:29 saying, "…if you are Christ's, then you are Abraham's seed, and heirs according to the promise", making all who are true believers "the Israel of God", see Galatians 6:16. So both God and true followers of Christ share in this treasure. Upon what treasure has your heart been set, Earthly or eternal, Carnal or spiritual?
Where Is Your Treasure
-By Rose Hill
What kind of a treasure is dear to your heart?
Figure that out and you will have a start.
In finding the treasure that will make you glad,
It could be the greatest treasure you ever had.
If you are righteous you don't need to look around,
Seeking for treasure all over town.
Right in your house a great treasure you will find,
If God controls your families mind (See Proverbs 15:6).
The fear of the Lord can be your treasure,
Giving you wisdom and knowledge beyond measure.
The treasure of wisdom you can have today,
And knowledge to travel on the Lord's highway.
This is a treasure He won't ignore,
With reverent fear, worship the Lord more.
Unless otherwise noted all Scripture quotations are from the New King James Version, copyright by Thomas Nelson Co. Used by permission.