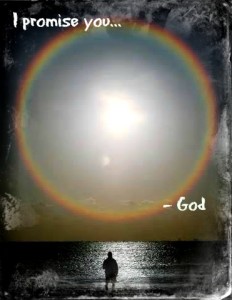 God is a God of rest to those who follow after Him. God's rest is threefold: there is rest for everyday life amidst the turmoil, strife, and difficulties of this present world; there is rest for that spiritual quest that is within us that cries for a relationship with Him; and there is an eternal rest. First, in Jeremiah 6:16, in the time of impending judgment because of the corruption and evil that prevailed, God said, "Stand in the ways and see, ask for the old paths where the good way is, and walk in it; then you will find rest (literally a resting place) for your souls" (literally breathing creature, animal, and vitality). David, who had faced many hard times, could say from experience, in Psalm 55:22, "Cast your burden on the Lord, and He shall sustain you: He shall never suffer the righteous to be moved." Secondly, God has created us spiritual beings that live in a physical body on this earth; as such, we have a God-ordained, spiritual craving within us for a relationship with Him, which can only be satisfied by Him. Some try to put it to death through doubt or disobedience; others try to satisfy it with "good spiritual" works. Both are disappointing to say the least! There is a God-ordained rest for His people, and it is in the finished work of Christ. Hebrews 4:9-10 says, "There remains therefore a rest for the people of God. For he who has entered His rest has himself also ceased from his works as God did from His." This scripture connects the finished work of redemption with the seventh day of creation, in Genesis 2:2. Finally, there is that eternal rest, when the troubles and trials of this life are ended, and our spiritual battles have all been won. Paul writes in 2 Thessalonians 1:7, "and to give you who are troubled rest with us when the Lord Jesus is revealed from heaven with His mighty angels."
I Promise You Rest
-By Rose Hill
Today the path is stressful and long,
Everything seems to be going wrong.
But God has promised rest you will find,
When God puts all your troubles behind.
Ask for God's way of old,
And walk in it as you are told.
God's promise is that you will find rest,
And your soul will truly be blessed.
For God's people there is a rest,
He always gives them what is best.
They are able from their works to cease,
And from His word to have a feast.
Scripture quotations are from the New King James Version copyright by Thomas Nelson Co. and are used by permission