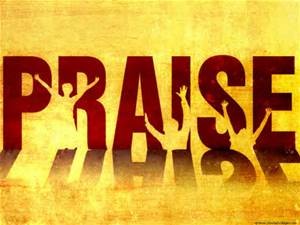 Praise Him for His mighty acts; Praise Him according to His excellent greatness!
Psalm 150:2
The Hebrew word here for "praise" is halal, and means to shine, boast, rave, and to celebrate clamorously. To some this may seem extreme, but that is the directive here: "Boast of the Lord! Rave of Him in His sanctuary." Furthermore, this exuberance is to be made manifest by a radical measure: according to God's excellent greatness! We can begin our path to extreme praise with asking ourselves, and answering honestly, if our habits of praise are willing to incorporate the shout of triumph. Psalm 47:1 instructs, "Oh clap your hands, all you peoples! Shout to God with the voice of triumph!"  Here is biblical counsel to partake in occasions of extreme praise. If a worthy reason is needed, embrace the ultimate triumph, Christ's cross and resurrection. II Corinthians 2:14 says, "Now thanks be to God who always leads us in triumph in Christ, and through us diffuses the fragrance of His knowledge in every place." Colossians 2:13-15 tells us, "You were dead because of your sins and because your sinful nature was not yet cut away. Then God made you alive with Christ, for he forgave all our sins. He canceled the record of the charges against us and took it away by nailing it to the cross. In this way, he disarmed the spiritual rulers and authorities. He shamed them publicly by his victory over them on the cross." The triumph of Christ's cross and resurrection demands praise above any other god, so our praise of Him should be outstanding. Our praise for Him should be extreme!
Extreme Praise
-By Sheila Carroll
Betrayed, abandoned, mocked, imprisoned.
Our Lord's humiliation was extreme.
Beaten, bruised, beyond human recognition.
Our Lord's suffering was extreme.
Stripped, crowned with thorns, crucified.
Our Lord's sacrifice was extreme.
Dead, buried, and now ALIVE!
Our Lord's victory is extreme.
Therefore, extol Him with fervent adoration.
Let our praise be extreme.
Therefore, bless Him with exalting jubilation.
Yes, let our praise be extreme!