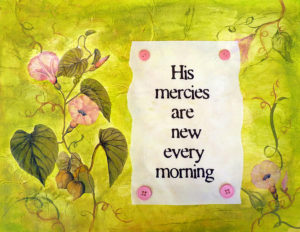 Lamentations, though not identifying the writer, is widely attributed to Jeremiah. The people of God had declined morally in spite of prophetic warnings as recorded in both 2 Kings and 2 Chronicles; this decline led to their being defeated and carried into captivity. On behalf of the nation the prophet sees himself in their seemingly hopeless situation and his anguish is displayed; but anguish turns into hope as he remembers the Lord's mercies, Lamentations 3:21-27. They were now under the disciplinary action of God, and they should accept it patiently and quietly, waiting in hope, for God was not through with the nation, and they would not be wiped off the map (like ungodly Sodom and Gomorrah was for their sin), verses 26-33. There are two messages I want to point out from this situation: first, even if you have fallen into sin and things look hopeless, forgiveness and restoration are available to those who will cry out seeking Him for His compassions "are new every morning." "The Lord is near to all who call upon Him, to all who call upon Him in truth" Psalm 145:18. Secondly, young people should be encouraged (by word and example) to be earnest in pursuit of God early in life, Lamentations 3:27; it is never too early to begin a spiritual development. Youth need to be challenged not to postpone godliness until later in life. Procrastination in godly living can lead to disastrous consequences! 
Mornings of Mercy
-By Rose Hill
The Lord is full of compassion toward me,
His mercy is new every morning I see.
The Lord is surely my portion and share,
And in His presence I wait for Him there.
It is really good for me to wait,
And I know the Lord will not be late.
I will sit down and not complain,
Even if there comes some pain.
For God knows just what is best,
Therefore in Him my soul will rest.
Though there comes my way some grief,
In God's mercy He brings relief.
He does not willingly His son afflict,
Or enjoy it when He sees him sick.
But takes him through some discipline,
For the punishment of his sin.
So let us test and examine our ways,
Then lift up our hearts and hands in praise.
For He always gives us what is best,
So we trust Him even in a test.
Scripture quotations are from the New King James Version copyright by Thomas Nelson Co and are used by permission.