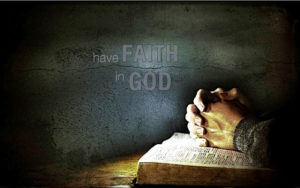 Faith is unquestionable belief; from a Biblical standpoint it is unquestionable belief in God; it is complete trust and confidence. It is persuasion or credence in the truthfulness, will, and power of God to bring about that which is not perceived by the senses. This faith is a gift from God who "has dealt to each one a measure of faith", Romans 12:3. It is based on our acceptance of the word of God and then acting on it accordingly. "So then faith comes by hearing, and hearing by the word of God", Romans 10:7; this measure of faith He has given to us is built up and strengthens us as we feed His word into our inner spirit man. Hebrews chapter eleven gives us profound insight into Old Testament patriarchs whose faith in God and His word was unshakable regardless of circumstances or earthly confrontations, giving us the challenge to follow in their footsteps, with verse 6 saying, "But without faith it is impossible to please Him, for he who comes to God must believe that He is, and that He is a rewarder of those who diligently seek Him."
Faith
-By Rose Hill (inspired from Hebrews 11)
Now faith is the assurance that we will receive,
The things that we hope for when we believe.
Faith filled the holy men of old,
And it's how they obtained a good report we are told.
By faith we understand that the worlds were framed,
And things not seen by God's word just came.
An acceptable sacrifice was brought by Able,
Because he was righteous and his faith was stable.
Now Enoch was pleasing to God and with Him he talked,
And by his faith right into heaven he walked.
If we believe in God and to Him draw near,
And have faith in His word and its message we hear.
Then we will be pleasing in His sight,
And of the heavenly kingdom see its light.
Scripture quotations are from the New King James Version copyright by Thomas Nelson Co. and are used by permission