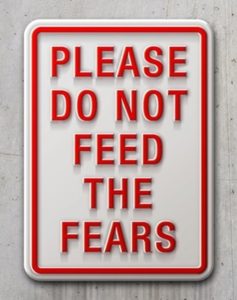 One of the greatest anti-fear verses in the Bible is found in Isaiah 41:10 "Fear not, for I am with you; Be not dismayed, for I am your God. I will strengthen you, Yes I will help you, I will uphold you with My righteous right hand." As Abraham's seed through Christ we have the right to all the provisions God made to Abraham and his seed; we are "heirs according to the promise", Galatians 3:29. There are 144 verses in the King James Bible that specifically say "fear not", and there are others that tell us not to be afraid, while Paul writes in 2 Timothy 1:7, "God has not given us a spirit of fear." Fear is an enemy that destroys faith and robs us of the blessings and benefits God has provided. Fear has aptly been described in an acrostic as "False Evidence Appearing Real." Whose report will you choose to believe, that of the false evidence that appears real, or that of the promises of God that through Christ Jesus "are Yes, and in Him Amen, to the glory of God through us" 2 Corinthians 1:20?
Don't Be Afraid

-By Rose Hill
(Inspired by Psalm 71:9 and Isaiah 46:4)
Don't be afraid that your friends will forsake,
And all of your loved ones death will take.
You have a friend who will by you stay,
Jesus will never leave or go away.
Don't fear the storm will be so great,
That it will all of your possessions take.
Rebuke fear and don't forget God's will,
Jesus will arise and say "Peace, be still."
Don't be afraid when you near life's end,
That you will be left with no money to spend.
God has promised to supply all your need,
And His own child He will surely feed.
Don't be afraid your health will fail,
And that you will soon be old and frail.
Of God's blessing you must partake,
For He will never His own forsake.
Scripture quotations are from the New King James Version copyright by Thomas Nelson Co. and are used by permission.