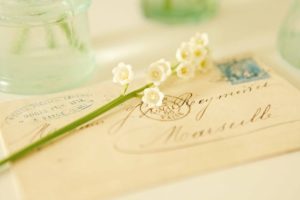 The Song of Solomon, ancient love poetry, can be very difficult for modern Westerners to understand. A love discourse between king Solomon and the Shulamite, which we rightly apply to Christ and the church; 2:1 is generally applied to the King (Christ) by the Christian fathers, but to the bride by Hebrew commentators. It seems properly divided that in 1:15 the king commends his lover for her beauty, then beginning in verse 16 she responds by expressing her adoration and love for him; and "our bed…our houses… our rafters" showing a bond of oneness between them. Now in 2:1 she expresses her humility before him, which I quote from the Amplified Bible (1965 edition) "She said, I am only a little rose or autumn crocus of the plain of Sharon, or a humble lily of the valleys [that grows in deep and difficult places]". Continuing with verse 2 in the Amplified, "But Solomon replied, As the lily among thorns, so are you my love, among the daughters." It is with such a backdrop that Rose's prophecy, (or prophetic exhortation) for this week is brought forth, portraying Christ's feeling of love toward His Bride, the church, and the beauty He sees in her.
The Lily In My Valley Garden
-By Rose Hill
To My flower of beauty and fragrance ,
You are a lily in My valley garden. You think of My beloved Son as the lily of the valley, but I have many lilies in My valley garden. You grow and bring forth beauty and fragrance even though you are growing in a difficult place. Most other flowers would balk if asked to grow in the place you are. Your fragrance is very sweet-scented to Me, for you take the difficulties in silence and do not complain to everyone of the bad time you bear. Endure the night, for the morning cometh. Just look up to Me, as all flowers do, for the sunshine of My love and the showers of My blessings.
Scripture quotations are from the New King James Version copyright 1982 by Thomas Nelson Co. used by permission.