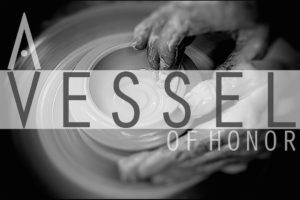 Today's meditation thoughts bring us to another of the prophetic exhortations that have been given to Rose. As you ponder these thoughts, we suggest you read the several Scriptures that form a backdrop for them. Come first to the potters house with Jeremiah in 18:2-6, and view the remaking of a vessel that became marred or ruined, keeping in mind that as God would do for Israel so He does for individuals, and for the Church which they form. Next, journey with the Apostle Paul to 2 Timothy 2:20-21, where he explains, that by cleansing from the dishonorable flaws of fallen nature, we become vessels of honor, separated unto the Master Potter's work. Finally, be sure to visit Exodus 4:2-4, where Moses is given a vital lesson that God will use a common shepherd and a shepherd's rod, when it is used according to His ability, and remember, "Whatever your hand finds to do, do it with your might…" (Ecclesiastes 9:10).
 Vessel Of Honor
-By Rose Hill

To my special vessel of honor – you have suffered very much and none of it has gone unnoticed by Me saith God. You have been like a broken vessel but you are Mine and I always mend My broken vessels. Every yielded vessel in My hand is brought to honor, so commit your whole life into My hand. You can trust one who loves you, and I love you very much, I gave My life for you. I need pure, holy, and clean vessels to move through, so refuse to allow evil to enter your mind or heart. For as My word says, whoever cleanses himself from what is unclean, who separates himself from contaminating and corrupting influences, will then be a vessel set apart and useful for honorable and noble purposes, consecrated and profitable to the Master, fit and ready for any good work. I have much work for you to do. I have chosen you to do it. No one else can do it for you, for it is in your hand. So if you follow My instructions, I will use you often, and glory will be brought to My name, and honor will be upon you, for you belong to Me, saith God.
Scripture quotation is from the New King James Version copyright 1982 by Thomas Nelson Co. used by permission.