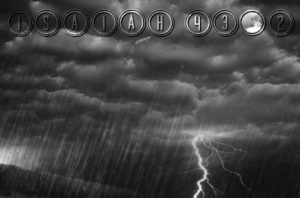 In Mark 4:35, Jesus had just concluded a teaching service where a multitude of people had gathered, and verse 2 says, "He taught them many things by parables". Parables are short stories of things familiar in life that illustrate and convey spiritual truths. On this day, He taught them things pertaining to the kingdom of God and its operation here on earth. As the day was drawing to a close, obviously tired in body, Jesus says to His disciples, "Let us go over to the other side." If you look at the beginning of chapter 5, you will see that there was a demon-possessed man there that needed deliverance. Jesus is always drawn to anyone in need that is open to Him! But in route, a fierce night windstorm arose, causing waves so great that water was beginning to fill their boat. Storms do not always indicate that you are out of God's will; sometimes they will arise even when Jesus is with you in the boat, indicating that the enemy is trying to keep you from attaining God's will! It is at times like this that we must tenaciously focus on Jesus, the Master of the storm, and not become distracted by the bellowing waves and ferocious winds, as Peter did in Matthew 14:30. When storms arise, remember the promise of Isaiah 43:2, "When you pass through the waters, I will be with you; And through the rivers, they shall not overflow you. When you walk through the fire you shall not be burned, nor shall the flame scorch you." The secret is knowing that you are in God's will and plan, because then you can cry out as Peter did in Matthew 14:31-32, "Lord, save me" and you can walk through the storm with Jesus until the wind ceases…and it will!
Going Over
Part 1
-By Rose Hill
Evening has come and troubles do mount,
There are more troubles than we can count.
But Jesus said, "To the other side we will go"
And what He says will happen we know!
Scripture quotations are from the New King James Version copyright 1982 by Thomas Nelson Co. used by permission.