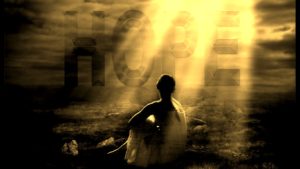 The disciples were going to have to face life without the physical presence of Jesus in the near future. This was very devastating to Peter, and likely to the other disciples as well. Facing life and the world without His physical presence would be difficult indeed. The same hostilities that He had sustained them through would still be there. In John 13:36-38, Jesus words probably reflect His death, the prelude to His return to heaven. Now in the midst of their devastation, and the questions that must have filled their minds, He gives them assuring words in John 14:1-3, telling them not to be troubled (i.e. not to be unsettled, disturbed, agitated, perplexed, or fearful), raising a banner of hope for them. Just like they believed in God who they could not see, they should also believe in Him. He tells them that in His Father's house (properly meaning His residence or where He abides) are many dwelling places; He promised to prepare a place for them and then to return, probably bringing to their mind a very familiar scene of their culture. When a groom-to-be had betrothed (became legally engaged, with a binding marriage contract) a bride, he would leave her for a while, going to prepare a place for them to live, and then return for her. Meanwhile she prepared for the wedding day. Just as the bride-to-be lived in hope and anticipation of her grooms return, they too (and we as well) should live in hope and anticipation of His return, preparing ourselves for it. As Titus 2:13 says, "looking for the blessed hope and glorious appearing of our great God and Savior Jesus Christ." Because He loves us so much He wants us to be where He is. Are we, like the bride-to-be, using the interval to prepare ourselves for the wedding day, or are we like the foolish virgins of Matthew 25:1-13, who failed to make the proper preparations for the wedding party?  1 John 3:3 says it plainly, "And everyone who has this hope in him purifies himself, just as He is pure."
A Place Prepared
-By Rose Hill
Jesus went to prepare for you a place,
So take the sadness off your face.
Let not your heart troubled be,
Some day your mansion you will see.
Jesus promised to came again and receive,
Unto Himself those who believe.
Scripture quotations are from the New King James Version copyright 1982 by
Thomas Nelson Co. used by permission.