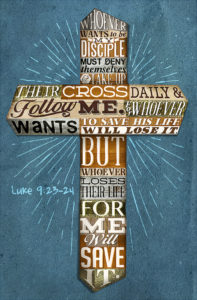 Today, we continue from last weeks meditation, Full Surrender, looking at the picture Jesus drew from Luke 9; but now we'll focus on Matthew's account in 16:24-25, and the two words we are emphasizing is "save" and "lose". In verse 25 He said, "For whoever desires to save his life, will lose it, but whoever loses his life for My sake will find it." What does He mean, "to save his life" and "lose it"; do we not all have a desire to enjoy adequate provisions, comforts, and pleasures in life? Yes, and kept in context these are all a part of God's blessing, but the problem occurs when we set our focus on them, and pursue self-preservation; we compromise, and try to fit in with the world around us to gain the accolades and favor of men. We pursue the pleasures and gratifications of the flesh, setting our affections (our mind) on the things of earth (see Colossians 3:2), while our spiritual life goes neglected, or at best is placed into a secondary position; or we seek to heap "up treasure for the last days" (James 5:3), allowing the wealth of this world to consume us (see 1 Timothy 6:10). Remember, none of these things bring real or lasting joy, peace, or happiness, and when we leave this world we cannot take any of them with us! So the life we sought to gain and enjoy is lost! But let's not forget the last part of Matthew 16:25, "whoever loses his life for My sake will find it." When we, for His sake, become willing to "sacrifice" the things of the earth, which we cannot keep, and to pursue the things of the kingdom, which we cannot lose, and to follow Him as "fishers of men" (Matthew 4:19), He promises in Luke 18:30 that we will "receive many times more in this present time, and in the age to come eternal life." Then in Matthew 16:26, Jesus puts the clincher to it with these questions, "For what profit is it to a man if he gains the whole world, and loses his own soul? Or what will a man give in exchange for his soul?"
Reward Or Loss
-by Rose Hill
Leave all and follow Me,
Deny yourself, My will you'll see.
Let Me be your friend and constant guide,
I'll never leave you; I'll be at your side.
I'll teach you to be a fisher of men,
To all the world, you I would send.
Follow My example; take up your cross,
And you'll get rewards and not a loss.
For whoever tries his life to save,
Will surely end up in the "grave".
But if you lose this life for My sake,
Then life eternal you will take.
For when I come in great power and splendor,
Many rewards to you I will render.
Scripture quotations are form the New King James Version copyright 1982 by Thomas Nelson Inc. used by permission.