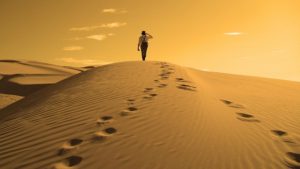 In Philippians 3:10, "that I may know Him and the power of His resurrection…" is the goal of the apostle Paul. The Contemporary English version says, "All I want is to know Christ and the power that raised Him to life". Are you seeking to know Him, or are you merely seeking to know about Him? Are you seeking the transforming power of His resurrection, or are you merely seeking religious knowledge? Are you seeking Him for the power of His presence, or are you merely seeking the temporal benefits you hope to receive? Paul probably made reference to the future resurrection of the dead, however, there is a present day application to being raised from the dead that he spoke of in Romans 6:4, "that we also should walk in newness of life." Our aspiration should be to walk in His present resurrection power over sin and evil. In 2 Chronicles 15:1-2 the Holy Spirit came upon (clothed Himself upon) Azariah, and spoke to Asa, king of Judah, words that are applicable to people of every generation, "… If you seek Him [inquiring for and of Him, craving Him as your soul's first necessity], He will be found of you; but if you [become indifferent and] forsake Him, He will forsake you", (Amplified Bible). In Matthew 11:29, Jesus said,  "learn from Me", He did not say, "learn about Me", but "learn from Me". Learn to know Me, learn to know My ways, learn to know My desires, learn to know My teachings, learn to know how I live so you can follow My ways. Jeremiah 29:13 says, "And you will seek Me and find Me, when you search for Me with all your heart." And then in Proverbs 10:24, " … the desire of the [uncompromisingly] righteous shall be granted." (Amplified Bible). Is your desire for Him?
Seeking To Know More About God
-prophetic words by Rose Hill
To My seeking child, saith your heavenly Father, I delight in one who seeks to know and understand more about Me. For truly I say unto you, "seek and you shall find". I am always anxious to give My children the desires of their heart, especially when they desire spiritual growth. Do not become discouraged when you do not receive all you want in a day. When you plant a seed one day you do not harvest the crop the next day, but it takes many days for the plants to grow and develop. But I say unto you, you are growing and you are pleasing in My sight. One day at a time and one-step at a time and you will become what I want you to be. Don't forget to inquire of Me everyday what you shall not do. I will give you overcoming power to resist temptation when you look to Me and ask for help. You cannot learn this process in a day either, but I will be with you and teach you as you look to Me, saith God.
(Suggested scriptures… Job 5:8; Psalm 34:4; and Psalm 37:23 in the Amplified Bible)
Unless otherwise noted Scripture quotations are form the New King James Version copyright by Thomas Nelson Inc. and are used by permission.