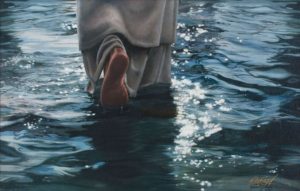 Fear and faith are at opposite ends of the spectrum. As the Bible says, "fear involves torment" (1 John 4:18). The fear we speak of (not to be confused with the awesome, reverential fear called the "fear of the Lord") is designed by the enemy to bring us under bondage to worry, anxiety, agitation, stress, and the like, raising undue concern and dread over the uncertainties of life in this world, with its calamities, pain, and dangers. God has not placed this kind of fear within us, for 2 Timothy 1:7 says, "God has not given us a spirit of fear, but of power and of love and of a sound mind." Faith, on the opposite end of the spectrum, grasps the promises of God and sees "that all things work together for good to those who love God" (Romans 8:28). Faith sees a bright future and knows that Jesus conquered, and we will overcome, because "He who is in you is greater than he who is in the world." (1 John 4:4). In Mark 4, Jesus and the disciples were in a monster storm at sea, and you can almost hear the fear in the disciples voice as they awake Jesus, who was sleeping, in verse 38, saying, "…do You not care that we are perishing?" After stilling the storm with three words, in verse 40, He asks them, "Why are you so fearful? How is it that you have no faith?" God has given us the power of His word to combat fear, and "faith comes by hearing, and hearing by the word of God" (Romans 10:17). Jesus said, "Do not fear little flock, for it is your Father's good pleasure to give you the kingdom" (Luke 12:32). Psalm 107:29 says, "He calms the storm, so that its waves are still." We can claim this for every storm of life! Psalm 27:1 declares, "The Lord is my light and my salvation; Whom shall I fear? The Lord is the strength of my life: Of whom shall I be afraid?"
The Power Of God's Word To Overcome Fear
-By Rose Hill
You don't have to fear when you know God's will,
He calms the storms so that all is still.
So read God's word and you will receive His peace,
And from your struggles you will get relief.
Scripture quotations are from the New King James Version copyright 1982 by Thomas Nelson Co. used by permission.