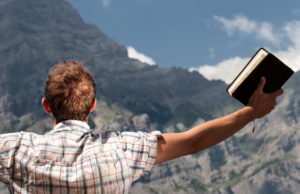 Psalm 119 is largely about the word of God, and its author utilizes several related terms such as law, commandments, precepts, statutes, and judgments, which are employed well over 125 times in this one Psalm alone (in the King James Version)! Anyone who speaks of a topic so frequently is obviously, deeply ingrained in it, and has it deeply ingrained in him. In verse 16, he tells us that this is where he finds delight, which is, "a high degree of pleasure, or satisfaction, of mind; joy" according to the first definition in Webster's 1828 edition dictionary. Then in verse 127 he says, "I love Your commandments more than gold, yes, than fine gold." God's word is both light and truth (verse 105): as light it is "a lamp to my feet" (it shows me where I stand), "and a light to my path" (it illuminates and shows me the way I am to go). The truth of God's word has power to separate me to God, and His ways, as Jesus points out in His prayer of John 17, where, in verse 17, He prays, "sanctify them (or set them apart) by Your truth. Your word is truth." Like Ezekiel, we must receive it into our heart for it to be effective on our behalf (Ezekiel 3:10), and as we fill ourselves with it, Ezekiel 3:3 says, "it was in my mouth like honey in sweetness." Oh yes, its power within us is a mighty force to deter us from sin (Psalm 119:10-11). Receive His word with thankful delight.
God's Word
-By Rose Hill
We thank You Lord for Your powerful word,
We are glad all our lives its message we heard.
It brings happiness to those who learn Your will,
And order their lives to live by it still.
We delight to learn of it every day,
It opens our eyes and brightens our way.
We have sought Your precepts as our urgent need,
And they have sprouted and grown as from seed.
Yes we love Your commandments as resplendent gold,
Your words to us are the best ever told.
The entrance of them gives understanding and light,
To help the pilgrim through the darkness of night.
Scripture quotations are from the New King James Version copyright 1982 by Thomas Nelson Co. used by permission.