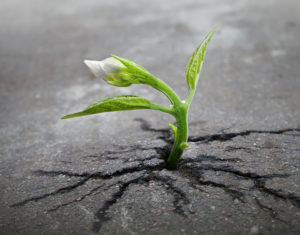 In 1 Peter 1:3-7, Peter addresses Christians with praise to "the God and Father of our Lord Jesus Christ, who according to His abundant mercy has begotten us again to a living hope…" Why is it a living hope? First, because it is established in a living person, "…through the resurrection of Jesus Christ from the dead." In Romans 6:9, Paul says, "Knowing that Christ, having been raised from the dead, dies no more…" and Jesus Himself announces in Revelation 1:8, "I am He who lives, and was dead, and behold, I am alive forevermore…" Secondly, it is a living hope because He "has begotten us again." Begotten means He has fathered us, and His life seed is within us, so Isaiah 53:10-11 declares, "…He shall see His seed…" What does that mean? He was totally human through His mother Mary, but also fully Divine and given a new bloodline, which comes through the father; He was uncontaminated by sin like the original Adam, and now all who become born again through His being "an offering for sin" are implanted with His bloodline and become His seed, and have His resurrected life within them. Thirdly, it is a living hope because we, having been procreated and recreated through Jesus, are now a legal part of the family of God, and receive "an inheritance incorruptible and undefiled and that does not pass away, reserved in heaven…" Israel's inheritance in Canaan was on this earth, which, because of the curse of sin, would be temporary; but our inheritance is in the heavenly kingdom of God, which will never pass away. We will all exist eternally, either in the state of Genesis 3:1-20 in the death of separation from God without hope, or in the state of Genesis 3:21 and Christ's resurrection, 1 Peter 1:3, united with God. The choice is yours – choose this living hope in Christ Jesus today.
A Living Hope
-By Rose Hill
We're distressed by many trials,
And the flesh doesn't like the self-denials.
But the Father is working on us night and day,
To bring us into the perfect way.
God says our faith is more precious than gold,
And this is the story that's the best ever told.
He is preparing a place that won't fade away,
That we will receive in heaven some day.
Because of His great mercy He set us apart,
To be born again and receive a new heart.
We gratefully praise our God up above,
For His great mercy and His love.
Because Christ has risen so will we,
This is our living hope and victory.
Scripture quotations are from the New King James Version copyright 1982 by Thomas Nelson Co. used by permission