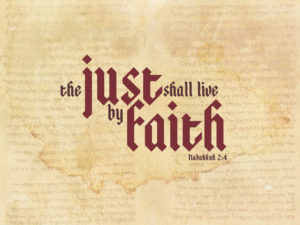 The book of Habakkuk begins on a note of despair as the prophet views the conditions around him, and dialogues with God. Then in the middle part of the book God brings him to discover the truth that "the just shall live by his faith" (Habakkuk 2:4). I believe this truth must have revolutionized the prophet as it did Martin Luther through whom it spawned the reformation, and in the last chapter there is a 180-degree turnaround in Habakkuk's outlook, which has changed from despair to that of hope, joy, and victory in God, regardless of the circumstances! May every one of us learn this lesson that the future is as sure as God Himself and as bright as the promises in His word!
God Is Great
-By Rose Hill
Habakkuk the prophet "said" a prayer,
And they set it to music with a flare.
He heard the great report of the Lord,
We'll be revived and not get bored.
God's glory covered the stars and sun,
The people found His praise to be fun.
He saw the Lord in brightness and splendor,
God came from His hiding place power to render.
He stood in the great days of old,
And measured the earth we are told.
He looked at the nations and they shook,
He marched through the land, in anger He took,
The wicked's house away,
And removed its foundations I would say.
O Lord You are sure mighty
 and great,
For Your destruction of the wicked I will wait.
Though the trees of the field give no fruit,
And I can't get my food to suit.
In my great God I will still rejoice,
He knows best and I make Him my choice.
Even if in suffering and trouble I walk,
I make spiritual progress and with God I talk.
Scripture quotation is from the New King James Version copyright 1982 by Thomas Nelson Co. used by permission.