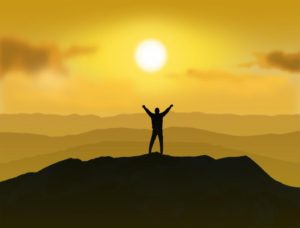 Psalm 21, from where Rose's poem for this meditation has been inspired, opens with the psalmist-king expressing joy and rejoicing in the salvation and strength of the Lord Yhovah, (Jehovah). Some expositors or commentators, as well as some Jewish Rabbis, view this Psalm as a picture of Messiah-king rising in victory. However, in the immediate text and circumstances the present psalmist-king is rejoicing in the bountiful blessings and goodness of "the Lord … most high" ( verse 7), expressing trust in Him that His enemies that hate Him (and those that were enemies and haters of Jehovah were also the Psalmist's enemies) will not prevail. And he brings the Psalm to a conclusion exalting the Lord, Jehovah, the one who is self-existent and eternal. Since He is already "high above all nations, His glory above the heavens" (Psalm 113:4), the only way He can be exalted farther is through our lifting Him high through exaltation and praise, which includes both audible praise and worship, as well as a lifestyle that radiates with, and diffuses the fragrance of His presence! "Praise Him for His mighty acts; Praise Him according to His excellent greatness" (Psalm 150:2).
His Great Salvation

-By Rose Hill
Your great salvation causes us to rejoice,
To praise You for Your blessing is our choice.
Our hearts desire You want to give,
When in Your presence we choose to live.
Your hand will the enemies power defeat,
And put him where he belongs, right under our feet.
To us now You are faithful and good,
When we walk with You the way we should.
Scripture quotations are from the New King James Version copyright 1982 by Thomas Nelson Co. used by permission.