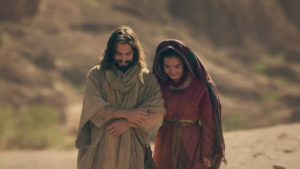 In Psalm 17, David references his own situation in which enemies and evil men have oppressed and surrounded him. He calls on God to be his vindicator, appealing to Him for His help. There is a neat thing about Scripture, where in portions like this, it focuses on the then present time and people, yet also looks forward to the future. Here, the passage is looking forward to another King in David's lineage, who would one day occupy his throne in a kingdom without end, forever and ever… Messiah, King Jesus. And if that is not enough, at the same time there is an application for us, to guide and inspire us in our journey. As David was surrounded by physical enemies, both Jesus and we would be surrounded by spiritual enemies (sometimes physical ones also inspired by these wicked forces); Ephesians 6:12 alerts us that "we do not wrestle against flesh and blood, but against principalities, against powers, against the rulers of the darkness of this age, against spiritual hosts of wickedness in the heavenly places." These lurk like lions waiting to devour us. Peter speaks about it in his first epistle, 5:8, saying, "… your adversary the devil walks about like a roaring lion, seeking whom he may devour." Then finally, David brings Psalm 17 to a glorious conclusion expressing confidence and hope in a future life, saying, "As for me, I will see Your face in righteousness; I shall be satisfied when I awake in Your likeness." We too, can claim innocence, because of the blood of Jesus, "who loved us and washed us from our sins in His own blood" (Revelation 1:5; also see Hebrews 8:12), giving us the " hope of eternal life …" (Titus 1:2) because it "is Christ in you, the hope of glory" (Colossians 1:27).
Assurance In God
-By Rose Hill
When we are walking with You and under Your care,
Your loving-kindness will go with us there.
Your glory and joy to us is great,
And to answer our prayer You won't be late.
When from straying we keep our feet,
Then all our enemies You will defeat.
You give to us majesty and splendor,
Long life and health You will render.
We delight in You this very hour,
Singing and praising You for Your great power.
Scripture quotations are from the New King James Version copyright 1982 by Thomas Nelson Co. used by permission