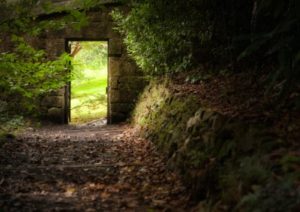 Since the secret place of God is in Jesus who became the physical manifestation of the rock upon which Moses stood, the physical manifestation of God and His presence, we can only enter through Him. He Himself declared in John 14:6, "I am the way, the truth, and the life, No man comes to the Father except through Me." It is by no special merits or achievements that we attain apart from Him, but is totally by His mercy and grace (Jude 2, and 2 John 3) which is showered on us as we truly repent of our sin as in Psalm 38:18, "For I will declare my iniquity; I will be in anguish over my sin." As there was only one door into the ark in Genesis 6, there is only one door into the secret place of God's presence, which is Jesus Christ. This door like the gate into a beautiful garden has been opened to us and as we enter we find paths of beauty and peace all around us, and now having been made family heirs we partake of its bountiful fruit and dwell in His secret place.
The Secret Place
-By Rose Hill
I have a place of sweet retreat,
It is a place that can't be beat.
It's where I am when I need shade,
It's a hiding place when I'm afraid.
It's under the shadow of the Father's care,
In His secret place I'm dwelling there.
In God's arbor in the shade,
He's at my side to give me aid.
The sun by day will never smite,
The evil one cannot bring fright.
Wherever I go the Lord will keep,
In the nighttime I can sleep.
When in need or in distress,
He is there to cheer and bless.
The storms may rage and beat the wall,
But His stronghold will never fall.
And when the ruthless ones come by,
He says, "Fear not" for I am nigh.
Scripture quotations are from the New King James Version copyright 1982 by Thomas Nelson Co. used by permission.