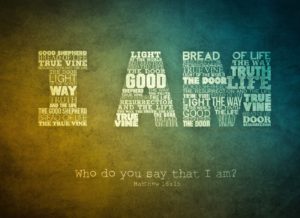 You will notice in today's poem (written by Rose Hill's brother, Everett, as he reflected on Psalm 46) an oft-repeated phrase, "I am". This is not only the title and name by which God introduced Himself to Moses and the people of Israel in Exodus 3:14, but it was and remains a present-tense statement for all people that right now He is everything He ever has been, and everything He ever will be, saying in Malachi 3:6, "I am the Lord, I do not change." As He has done He will do; what He has promised He will perform. Trust Him as the ever -present God who is always with His people (see Matthew 28:20).
I Am
-By Everett Myer
Be still
 Chill
 Choose not to fear
 For I AM here
 I AM
 I just AM
 I AM always with you
 I inhabit all life's events
 I do not cause evil
 But when it happens
 I AM here
 I hate evil
 But it doesn't scare me
 The evildoer cannot escape Me
 The godly are never abandoned
 I AM aware
 Of the most insignificant hurt
 As well as the most overwhelming tragedy
 You are My precious child
 I AM your provider
 Your protector
 your Director
 Your comforter
 I AM
 Love
 Truth
 Beauty
 Light
 Living water
 Bread of life
 I AM the source of your very being
 I AM
 Your creator
 Your sustainer
 I AM the sustainer of ALL creation
 I AM above all, yet in all
 If you seek me you will find me
 I AM your peace
 Your only hope for True peace
 Choose to trust me
 Choose not to fear
 Give up striving
 Give up self-effort
 Give me your unsolvable life puzzles
 Watch me work
 From beginning to end
 For I am the beginning and the end
 The end.
Scripture quotations are from the New King James Version copyright 1982 by Thomas nelson Co. used by permission.