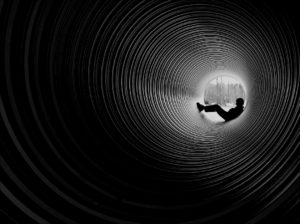 Are you going through a dark tunnel? Is the road ahead dimmed by uncertainty? Do you have questions of why this or why that? Does it seem like darkness that is all around is weighing heavily upon you and oppressing you? Well I have good news for you today: God said, "I will make darkness light for them …" (Isaiah 42:16). Our God is the God of light, and, in fact. the Bible says that He "is light, and in Him is no darkness at all" (1 John 1:5). Light and darkness do not co-exist, twilight only lasts a short period; you can observe this phenomenon every day in "nature" as the sun rises and sets. It is an established rule that darkness fleas when light approaches and cannot return until light recedes. This law of "nature" also applies in spiritual life. Jesus said, "I am the light of the world. He who follows Me shall not walk in darkness, but have the light of life" (John 8:12). So the secret of abundant life-filled living is following Him closely, so that His light illuminates your path and your life. The Bible says in Psalm 36:9 "For with You is the fountain of life; In Your light we see light." And if we walk with Him in the light of His word (remember the Bible says, "The entrance of Your words gives light it gives understanding to the simple" Psalm 119:130) the Bible, and the voice of the Holy Spirit speaking to us, they will guide us safely through the "minefields" of this present world, and Jesus guarantees us a safe journey to the end! He put it like this in John 11:9-10, "If anyone walks in the day, he does not stumble, because he sees the light of this world. But if one walks in the night, he stumbles, because the light is not in him."
God's Light

-By Rose Hill
You don't know what I have for you,
I'll show you a path to walk that's new.
I'll turn on the light and the darkness will go,
A straight path for you I now will show.
And what's more, I never will forsake,
The one who My new path will take.
Scripture quotations are form the New King James Version copyright 1982 by Thomas Nelson Co. used by permission.