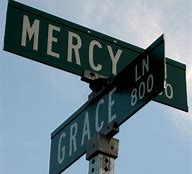 The primary definition of mercy in the Old Testament Greek language is kindness; Webster expands on the definition of mercy saying it is, "a refraining from harming or punishing offenders, enemies, Etc. kindness in excess of what may be expected. A disposition to forgive and be kind."  This surely sums up God's disposition toward us. Paul picks up on this subject as he writes in Titus 3:5, "not by works of righteousness which we have done, but according to His mercy He saved us …" Nehemiah 9:17 follows the same trend of thought as he recalls God's dealing with Israel who so often rebelled and sinned saying, "… But You are God, Ready to pardon, Gracious and merciful, Slow to anger, Abundant in kindness, And did not forsake them." Joel 2:12-13 makes it crystal clear that His mercy is upon those who show true heart repentance and not just outward religious reform saying, "… so rend your hearts and not your garments; Return to the Lord your God, For He is gracious and merciful, slow to anger and of great kindness; And He relents from doing harm." That tells me that His wrath and judgment is determined for all those who do not turn to Him in true repentance, but His mercy is extended to all who do. Psalm 136, the foundation stone of Rose's poem today, uses the word mercy in every verse, (26 times) saying it "endures forever." As long as we have life in our body His mercy is available and will be shown if we turn to Him with a repentant heart.
His Mercy Forever Endures
-By Rose Hill
We give thanks for Your unfailing love,
That You shower on us from Your throne above.
How is it that You're on our side,
And for us Your only Son has died?
It's because Your mercy forever endures
And You want us always to be Yours.
Why the world and heavens You have made,
 And the foundations of the earth You laid?
The wonder of the sun to rule by day,
And by night the moon to show the way.
It's because Your mercy forever endures,
And You want us always to be Yours.
You lovingly remember our great need,
And deliver us from our enemies with speed.
So why should we bring to You all praise,
And be thankful to You all our days?
It's because Your mercy forever endures,
And You want us always to be Yours.
Scripture quotations are from the New King James Version copyright 1982 by Thomas Nelson Co. used by permission.