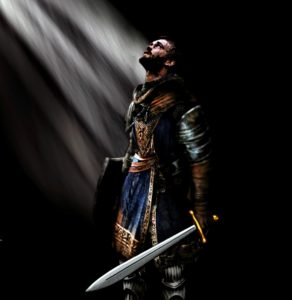 Have you ever struggled through a dark night season where it seemed like when will this ever end? This happens in the natural, but it also happens in the spiritual as we encounter the forces of "the darkness of this age (world KJV)" Ephesians 6:12. In Mark 6:45-51 the disciples encountered such an experience in real life as they spent a storm tossed night at sea; but in the fourth watch of the night – the last watch which is just before the breaking of dawn –Jesus approached them in the midst of the storm; yes, He makes Himself available in the midst of the dark stormy night; and the Psalmist shares with us this great truth "Weeping may endure for a night, But joy comes in the morning" 30:5. In Exodus 19:4 God reminds His people to remember "…how I bore you on eagles wings and brought you to Myself." The eagle is a high flying bird and I see God saying, I lifted you high and have brought you into My presence where there is peace. In Isaiah 41:10 he says, "Fear not, for I have redeemed you; Be not dismayed…" Who is He talking to? To those who have made Him their God; and to them He says, "I will strengthen you, yes I will help you, I will uphold you with My righteous right hand." If you have not made Him your God, there is no better time than right now to do so.
A new song in the night
By Rose Hill
I waited and waited all night long,
For sleep to come, what was wrong?
But the Lord was waiting on me, He wanted to bless,
By bringing to me both peace and rest.
He taught me to yield both body and soul,
To His power and full control.
I thought no sleep would make me weak,
So I just had to get some sleep.
But when morning came new strength He brought,
Because in the night His will I sought.
I mounted up on eagle wings,
With a new song now my heart sings.
'Cause body and soul He did purify,
As to Him I did draw nigh.
Scripture quotations are from the New King James Version copyright 1982 by Thomas Nelson Co. used by permission.