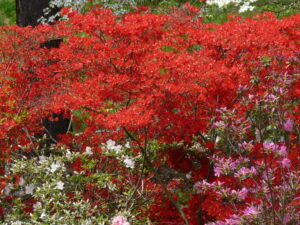 Job was an upright man that feared God and kept himself from evil, 1:1. Being severely tested he neither sinned with his lips or blamed God, 1:22; 2:10. However he spoke beyond his knowledge, and when God questions him he acknowledges his error, despises himself, repents in full humility, then steps out serving God and is restored to more than he ever had before, Chapters 38-42! Perhaps like Job you have heard about God but today you see Him more clearly for yourself as His Spirit draws you to Him; will you follow Jobs example of repentance and commitment to God?
The Lord Said To Job, Do You Know?
By Rose Hill
Where were you when the worlds were made,
When dimensions were determined and surveyed?
Who told the sea not to come on the shore,
That it can come this far and no more?
Have you visited the treasures of the snow,
Or seen where hail is made to go?
Where is the place that cometh the light,
Who dug the valleys for the rain just right?
Do you the laws of the universe know,
Do you ask it to rain and it is so?
Do you make the seasons come and go,
How to make lightning strike do you know?
The mighty horse in battle do you fear?
His majestic snorting is something to hear.
At your command does the eagle rise to the sky.
And make her nest in the mountains up high?
You say to Me that you're not wrong,
If you could catch leviathan then you would be strong.
But he is a mighty monster that you fear,
To capture him you won't come near.
I would have you know I'm greater than he,
Because I made him now you see!
Everyone's afraid to stand before him in the way,
So who thinks they can stand before Me today?
Job replied to God
The answers to Your questions I could never find out,
I was talking about things I know nothing about.
I put my hands on my mouth, no more can I say,
I've said already too much today!
I heard about You a long time ago,
And now I've seen You and really do know;
In dust and ashes I need to repent,
And then Your blessing on me will be sent.