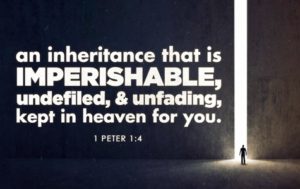 In 1 Peter 1:3-5 we are told that "the God and Father of our Lord Jesus Christ, who according to His abundant mercy has begotten us again to a living hope through the resurrection of Jesus Christ from the dead, to an inheritance incorruptible and undefiled and that does not fade away, reserved in heaven for you…" It is a living hope because it is based on and centered in a living person; the only one who can truly say "I am He who lives and was dead, and behold I am alive forevermore", Revelation 1:18. It is living because it is unlike the dead hope of this world, which is a wishful fancy centered on things that perish, this hope is centered on a confident assurance that we have "an inheritance incorruptible and undefiled that does not fade away" verse 4. Proverbs 10:28 echo's the same message, "The hope of the righteous will be gladness, But the expectation of the wicked will perish," Again in Proverbs we read "The wicked is banished in his wickedness, But the righteous has a refuge in his death" 14:32. This living hope is a hope for both today and tomorrow as the Apostle Paul writes, "If in this life only we have hope in Christ, we are of all men most miserable", 1 Corinthians 15:19. Since it is a living hope it gives great contemplation, as the Apostle Paul again writes, "because of the hope which is laid up for you in heaven" Colossians 1:5. Notice that Peter said it is "incorruptible" an alternative reading is "imperishable", unlike the worlds "hope" it does not fade like a withering flower. Living hope springs from deep within, it is real, true, and operative; it cheers and enlivens us; it is an aspiration motivating us in present opportunities, yet focusing our end goal upon a future prize. It is only received by those who have been begotten again to new birth by God through Jesus Christ, see John 3:3.
Inherited Hope
-By Rose Hill
Because of the mercy God is giving,
We have a hope that is really living.
We have an inheritance that won't decay,
Reserved in heaven until that day.
When it will be revealed in the last hour,
Because we are kept through faith in God's power.
Scripture quotations are from the New King James Version copyright 1982 by Thomas Nelson Co. used by permission.