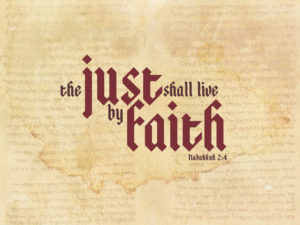 There are eight times in the New Testament epistles that faith and hope are "married" to each other in the same verse.* Both faith and hope are part of the "coat of mail" that all Christians should be wearing. For example, look at 1 Thessalonians 5:8 "…putting on the breastplate of faith…and as a helmet the hope of salvation." Paul says in Romans 5:2 that it is by faith we have access "into this grace in which we stand, and rejoice in hope of the glory of God". In the eight verses referred to above the word hope always comes from the same Greek word Elpis meaning "(to anticipate, usually with pleasure): expectation…or confidence" (Strong's). Bible hope is more than a passing whim of wishful thinking; rather it is the assurance of a future reality. Peter calls it "a living hope" in 1 Peter 1:3. It is living because it is sourced in "the resurrection of Jesus Christ from the dead." It is this hope that secures us through the storms of life as an anchor secures a ship on the storm tossed sea, as Hebrews 6:18-19 assures us. Hope is like a child of faith; "…faith perceiving as real fact what is not revealed to the senses" Hebrews 11:1 Amplified Bible; and in hope "we eagerly wait for it" Romans 8:25.                                                            *Romans 5:2; 1 Corinthians 13:13; 2 Corinthians 10:15; Galatians 5:5; Colossians 1:23; 1 Thessalonians 1:3:  5:8; 1 Peter 1:21.
Hope
By Rose Hill
Hope in God and for Him wait,
To help you out, He won't be late.
You say your burden's too much to bear,
The night is so dark and it's not fair.
Why all these troubles should come your way,
When others have a brighter day
Your God has not forgotten you,
When in pain and sorrow His love is true.
So wait for Him, in His mercy hope,
Even if you're at the end of the rope.
For He sees your need and will come your way,
And there will surely be a better day.
Unless otherwise noted Scripture quotations are from the New King James Version copyright 1982 by Thomas Nelson Co. used by permission.