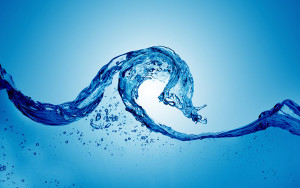 Continuing to focus on water we read in Revelation 21:6 "…I will give of the fountain of the water of life freely to him who thirsts." Nothing can compare to clear cool water to quench the thirst of a hot laborer or a weary traveler! Other liquids may appeal to the taste buds, but they cannot measure up to water to satisfy the need. In Isaiah 55:1God says "Ho! Everyone who thirsts, Come to the waters; And you who have no money, Come buy and eat. Yes, come, buy wine and milk without money and without price." Water to satisfy the inner thirst of your soul, and then He adds wine (joy) and milk (nourishment) all paid for by Jesus. Water is also a cleansing agent, hence we are sanctified and cleansed by "the washing of water by the word" Ephesians 5:26. When we have received redemption through the blood of Jesus, His word reveals our shortcomings and we are able to make the necessary corrections. Jesus said in John 15:3 "You are already clean because of the word which I have spoken to you." And Revelation 22:17 issues the last invitation in the Bible and it is to partake of this spiritual water, saying, "And the Spirit and the bride say, 'Come'! And let him who hears say, 'Come'! And let him who thirsts come. Whosoever desires, let him take the water of life freely."
Satisfying Water
By Rose Hill
To the thirsty one is given,
A fountain of water for pure livin'
The water of the word washes us clean,
Then the purity of God in us is seen.
"Come" says the Spirit and the church,
"Come" all you who for God thirsts.
"Come" if you are hungry the truth to know,
"Come" to the one who loves you so.
You who have no money to buy,
"Come" and to you God will draw nigh.
He gives living water that is free,
"Come" for it and you will see.
Scripture quotations are from the New King James Version copyright by Thomas Nelson Co. and are used by permission.