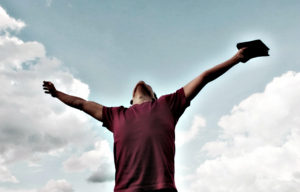 Sorrow Turned Into Joy
Following the death of a loved one there is great sadness and sorrow among family and close friends. It was no different when Jesus died, even though He had tried to forewarn them and tell them He would rise again (John 16:16-24; Mark 8:31) they had failed to grasp and fully understand His teaching. Now in Matthew 28 it has been three days since His death and a couple of the grieving women come to the tomb early on the first day of the new week, there is a great earthquake, the stone rolls away from the door, and an angel of God descends and sits on it! Sitting implies resting, reminding me of God in Genesis 2:2 resting on the seventh day in His finished work of creation; now the angel of God sits on the stone at the empty tomb as though resting in and celebrating the finished work of God's New Creation through Christ Jesus! (Luke 24 records that two other angels also appeared in the tomb.) A little later the women encounter Jesus Himself whose first word to them was "Rejoice"! Surely their sorrow was turned into joy as He had promised. And then He entrusts them to become the first to proclaim the gospel, the good news, of His resurrection. Most notably was "Mary Magdalene, out of whom He had cast seven demons" Mark 16:9 emphasizing to us that no matter how far away from God one has gone, nor how deep into sin and darkness they have fallen, a face to face encounter with Jesus will bring a joyous new creation and beginning, which is available to all that call upon Him. Truly, Jesus is all I need.
A day to rejoice
By Rose Hill
It was a day of sadness and despair,
Their Lord in the tomb was buried there.
How could they ever endure this night?
Nothing seemed to be going right.
The women went to the tomb at early dawn,
And found that the body of Jesus was gone.
Oh what a troubling distressing thought,
That all those things which had happened brought.
Then suddenly two bright angels came near,
And encouraged the women not to fear.
The one whom you seek is not dead,
For He has arisen as He said.
Go tell the good news to those who are sad,
It's a day to rejoice and be very glad.
Scripture quotations are from the New King James Version copyright 1982 by Thomas Nelson Co. used by permission.