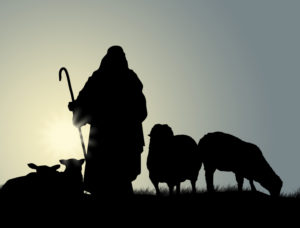 As followers of the Lord Jesus we have been commissioned to carry on His ministry here on earth while He prepares a place for us in heaven (John 14:2-3). This is illustrated to us in the parable of the minas in Luke19:11-37 in which the nobleman equipped his servants and instructed them to "Do business till I come." The prerequisite to their doing His business was that he equipped them to do it. Even more importantly than doing His work is for His work to be done in us! There are four progressive steps involved in this process; these are captured in an old hymn which Rose has chosen instead of one of her pomes to base today's meditation on. First, He must speak to us, and He does speak but it is up to us to hear; Psalm 85:8 says "I will hear what God the Lord will speak …" And Ezekiel was told before he spoke to Israel to "hear a word from My mouth …" 3:17; 33:7. Secondly we must receive teaching from Him; David, in psalm 25:4, prayed, "Show me Your ways, O Lord; Teach me Your paths." And Jesus said the Holy Spirit would teach us and bring to our memory "all things that I said to you" John 14:26. Thirdly we must allow Him to fill us with Himself: in John 4 we are invited to partake of His living water, and in John 7 it becomes rivers flowing out of us. Fourthly we are now equipped to do His business here on earth, "… you shall be witnesses to Me …" Acts 1:8.
Lord speak to me that I may speak
Frances Havergal (in the eighteen hundreds)
Lord speak to me, that I may speak
In living echoes of Thy tone;
As Thou hast sought, so let me seek,
Thy erring children lost and lone.
Oh teach me, Lord, that I may teach,
The precious things Thou dost impart;
And wing my words that I may reach
The hidden depths of many a heart.
Oh fill me with Thy fullness, Lord,
Until my very heart o'erflow
In kindling thought and glowing word,
Thy love to tell, Thy praise to show.
Oh use me, Lord, use even me,
Just as Thou wilt, and when, and where;
Until Thy blessed face I see,
Thy rest, Thy joy, Thy glory share.
Scripture quotations are from the New King James Version copyright 1982 by Thomas Nelson Co. used by permission.