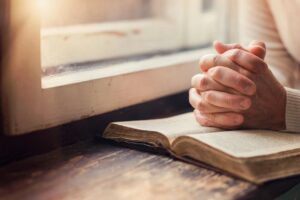 The word gospel means "a good message" or as someone said, "Good news". And "The gospel of the kingdom" is super good news, the news of the heavenly realm and rule brought to this earth by Jesus the Royal King! His message from the very beginning was "…the kingdom of God is at hand…" Mark 1:14-15. (The kingdom of heaven used by Matthew is interchangeable.) Before leaving this world He gave His disciples the charge to "Go into all the world and preach the gospel to every creature", and the Amplified Bible adds "(of the whole human race)". In Matthew 24:14 it is clear that He associated the accomplishment of this assignment with the end of the age and of His return. "The beginning of the gospel" Mark 1:1, is Jesus coming into this world to bring salvation to all men, Titus 2:11. The good news is that in this God demonstrated "His love toward us" Romans 5:8; the good news is that "He bore our sins in His own body on the tree" 1 Peter 2:24; the good news is that all who believe in and receive Him are given "eternal life", John 3:15; The good news is that this life begins in us the moment we receive Him as our Savior and Lord, John 10:10 says "that they may have life", Present tense; the good news is that though once we were separated from God through sin we will be presented to Him by Christ "holy, and blameless, and above reproach in His sight" if we "continue in the faith, grounded and steadfast, and are not moved away from the hope of the gospel…" Colossians 1:21-23; 3:1-4.
The hope of the gospel
By Rose Hill
The good news of the gospel we must preach,
To all the earth its message must reach.
God's salvation is for all mankind,
Who seek eternal things and find.
When they set their minds on things above,
Then they will realize God's perfect love.
Christ came to earth to suffer here,
So in glory with Him we can appear.
This is the hope we have today,
When all our sins are washed away.
Unless otherwise noted Scripture quotations are form the New King Kames Version copyright 1982 by Thomas Nelson Co. used by permission.