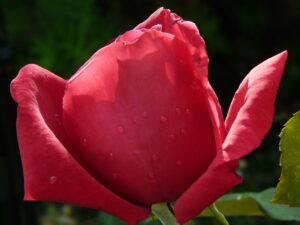 Society may minimize those of older age, but God does not! In Isaiah 46:4 He says to His people, "Even to your old age, I am He, And even to gray hairs I will carry you! I have made, and I will bear; Even I will carry, and will deliver you." While recognizing distinction, the Holy Spirit does not discriminate by either age or gender. In fact there are various scriptures that indicate God gives special attention to those who attain old age in Him. Proverbs 16:31 says, "The silver-haired-head is a crown of glory, If it is found in righteousness." With ageing many experience a weakening of physical and mental abilities, but take heart, God is on your side; He will not put you on the shelf because you are growing old! The prayer of the Psalmist in 71:9 is "Do not cast me off in the time of old age; Do not forsake me when my strength fails." And in Psalm 92:14 God's provision is stated "…They shall still bear fruit in old age…" Opportunities and abilities may change, but God has a place for the aging as well as for the young. Remember Anna in Luke 2:36-38 who "was of a great age" but was an apparent "prayer warrior" and spoke what I believe was a prophetic declaration over the Lord Jesus "to all those who looked for redemption in Jerusalem." And Caleb who at 85 years of age took on what was probably the greatest battle of his life in Joshua 14:10-12. Then there was Moses who led Israel for forty years beginning at age 80! The Bible says in Proverbs 20:29, "The glory of young men is their strength, And the splendor of old men is their gray head."
Prayer of an old person
By Rose Hill
Don't leave me Lord because I'm old,
Shelter me now in Your stronghold.
My strength fails and I am weak,
But now Your help and power I seek.
My hope will always be in You,
You will revive me and renew.
Scripture quotations are from the New King James Version copyright 1982 by Thomas Nelson Co. used by permission.