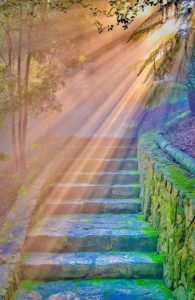 This week we conclude our mini series on "Have you been robbed?" Once again we emphasize from John 10:10 that our enemy, Satan, has a threefold agenda, which is to steal, to kill, and to destroy! Robbing us of health and vitality is another of his key targets. Some physical afflictions are directly attributable to demonic activity such as the woman in Luke 13:10-17 who had "a spirit of infirmity" and had been bound by Satan for eighteen years. Others include the demonic man in Mark 5:1-15, who, after Jesus delivered him, was "in his right mind" indicating there had been a mental problem; and the boy with a deaf and dumb spirit (with other side effects) who was healed after Jesus dealt with the demonic power. We know that all physical affliction and sickness is not directly spawned by this type of demon activity, but probably most of the time physical afflictions are indirectly the result of satanic activity, understanding that all of these afflictions date back to the fall of mankind opening the door to death and all its precursors! In Deuteronomy 7:15 God reveals four things about sickness and disease from His point of view: He says it is evil (KJV & Amplified) (the Hebrew word "ra-ra-ah" means bad or evil); He also says it is not He who lays it on His people, "will afflict you with none of the terrible diseases"; it is of the world all around us (Egypt is symbolical of the world), and if attacked He will take it away "the Lord will take away from you all sickness" That my friend is powerful indeed! In this short meditation we do not have space to go into a detailed exploration of divine healing, but will say this; sometimes the promise comes with conditions, and always it is part of Jesus' atonement for us. Today's prophetic insight will take us a little deeper into this subject.
Have You Been Robbed Of Your Health?
-By Rose Hill
Have you been robbed of your health? I am the God that healeth thee! I want to give you life, and I want you to have it more abundantly. (John 10:10)
The devil has robbed you but I want to restore to you your health. My Son Jesus received many stripes on His back so you can be healed. (Isaiah 53:5)
I gave My word also to bring your healing. So come into My presence, read My word, and meditate on it. Let it become a part of you controlling every thought. (Psalm 107:20).
Then you will be able to take this blessing also from My right hand, for I wish above all things that you prosper and be in health, even as your soul prospers. (3 John 2) 
Scripture quotations are from the New King James Version copyright 1982 by Thomas Nelson Inc. used by permission.