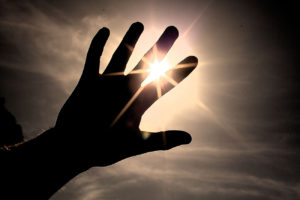 "He sent His word and healed them, and delivered them from their destructions" (Psalm 107:20); healed in the original language means to mend or cure, and delivered means He released, rescued, and/or made an escape out of their pitfalls, which can have a wide range of applications. Perhaps one of the biggest battles we fight in regard to divine healing, as well as many other of God's provisions, is that of doubt and fear; we know God can, but doubt that He will – at least right now. It seems to me that Martha had a similar problem in John 11:21-24, where the picture I see is, "You could have done something" (verse 21),  "You can do something" (verse 22), "But not now" (verse 24); oh, but listen to the words of Jesus in verse 25, "I am". Jesus is the God of right now, present tense! In Exodus 15:26, God lays out His healing covenant with His people, that if they will set themselves to hear what He says, and apply and enact it in their lives, He will be their healer. I believe it has largely to do with the heart attitude being set on His ways; remember, "the Lord looks at the heart" (1 Samuel 16:7). And, yes, this Old Testament covenant is still active under the New one (see Galatians 3:29) where God covenants to heal His people, using various implements of administration, among which are anointing with oil, confession of trespasses, praying for one another, the spoken word, the laying on of hands, and a point of contact (see James 5:14-16, Acts 14:8-10, Acts 28:8, and Acts 19:12). God is a healing God, and words spoken by T. L. Osborne are quoted as saying, "God heals His people because of His covenant, and He heals the sinner because of His mercy"! How true!
Seek God For Healing
-By Rose Hill
I asked for healing for my body was failing,
On a rough sea I seemed to be sailing.
The waves seemed to leap O so high,
Each night I could only give a sigh.
I said, Lord, do help my unbelief,
I don't know how to get relief.
I try so hard but all seems vain,
He said for this My Son was slain.
Lord, You said, Ask and receive,
I'm sure You can my mind relieve.
I cry to You for help right now,
But to receive I don't know how.
He said, your faith is O so weak,
But I am glad for Me you seek.
You need not be troubled any longer,
Each day I will make you a little stronger.
Then someday you will realize,
That your healing is before your eyes.
And praise to Me you will bring quick,
For no longer will you be sick.
Scripture quotations are from the New King James Version copyright 1982 by          Thomas Nelson Co. used by permission.