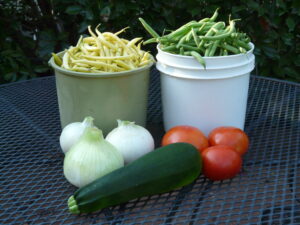 When the Psalmist speaks of the Lord preparing a table for us in psalm 23, I believe He is thinking of all the good things God has provided for us. The moment you accept Him as your shepherd He commits to caring for you like a shepherd cares for his sheep, and He begins a restoration in you from the ravages that man's fall into sin levied upon the human race. Since His prepared table, His provisions, are "in the presence of my enemies" Verse 5, this tells me these provisions are for now in this world because we will not have enemies in heaven! By anointing my head with oil (the Holy Spirit) shows favor and tells me that I am "accepted in the beloved" Ephesians 1:6. Because my cup is filled to overflowing, not only am I satisfied but there is an overflow that reaches to others also; Jesus said, "…come to Me and drink" and then "…out of his heart will flow rivers of living water" John 7:37-38. And this abundance will only culminate and reach its crescendo in eternal bliss in His presence for, "I will dwell in the house of the Lord Forever." In Matthew 6:25-31 Jesus taught His followers not to worry about life's provisions; remember the sheep don't worry about their provisions, they just follow the shepherd who sees that their needs are met! And of utmost importance remember that He is our spiritual sustenance, "the bread of life" John 6:48, and we can be daily Partakers of His provisions.
Come To The Table
By Rose Hill
Jesus has a table spread,
Where all the saints of God are fed.
He told us not to worried be,
For all our needs He will surely see.
And don't be anxious He has said,
I will give you your daily bread.
For His children He prepared a table,
To provide meat and bread He is able.
Come to the table our Lord has spread,
And also take some spiritual bread.
Scripture quotations are from the New King James Version copyright 1982 by Thomas Nelson Co. used by permission.