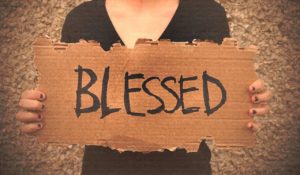 "Blessed are those who are persecuted for righteousness' sake, For theirs is the kingdom of heaven", Matthew5:10-12. To be persecuted is to be afflicted so as to cause you injury, distress, and annoyance. Now if being reviled and persecuted come because you have done something stupid, or you have acted outside of wisdom, and without love, you are receiving the consequences of your ways and the rewards do not apply! If however, the persecution, the defamation, the taunts, Etc. are aimed at you falsely because you are a Jesus follower and for righteousness and the kingdom of heaven's sake, great rewards are being laid up for you. 1 Peter 2:20 in the KJV says, "For what glory is it, if when ye be buffeted for your faults, ye shall take it patiently? but if, when ye do well, and suffer for it, ye take it patiently, this is acceptable with God." Jesus said to His followers in John 15:20 "…A servant is not greater than his master. If they persecuted Me, they will also persecute you…" Why? Because this present evil world and the kingdom of heaven are diametrically opposed to each other. Jesus pointed out that when these persecutions come we are not alone, "for so they persecuted the prophets who were before you. This puts us in standing with good company, and Jesus said, "Rejoice and be exceedingly glad, for great is your reward in heaven." The Apostle writes in 2 Timothy 3:12, "all who desire to live godly in Christ Jesus will suffer persecution." Don't expect the world to be your close ally, Jesus said "Woe to you when all men speak well of you…" Luke 6:26. Our battle, while fought in this world is not of this world, but is "against principalities, against powers, against the rulers of the darkness of this age, against spiritual hosts of wickedness in the heavenly places" Ephesians 6:12. God says to the persecuted church in Revelation 2:10, "Be faithful until death, and I will give you the crown of life."
Persecuted
By Rose Hill
Happy are you if you have been chosen,
To suffer for Christ for your much devotion.
For those persecuted will great grace be given,
And receive much happiness in the kingdom of heaven.
So be very glad for your reward is great,
When you're accused falsely for Jesus sake.
Unless otherwise noted Scripture quotations are from the New King James Version copyright 1982 by Thomas Nelson Co. used by permission.