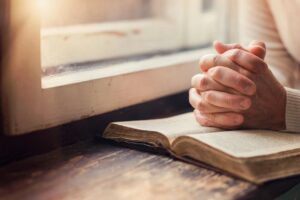 Jesus said "Ask, and it will be given to you; seek and you will find; knock and it will be opened to you" Matthew 7:7. To me that sounds like persistence which He also teaches in Luke 18:2-8; no, this is not trying to "twist" God's arm or to manipulate Him, but by persistently pursuing what He has promised and expressing faith that he will do what he said even though the answer may not immediately come. 1 John 5:14 tells us that "…if we ask anything according to His will, He hears us…" What is His will? It is everything that complies with the promises and provisions of His word! 1 Thessalonians 5: 17 says "Pray without ceasing", the Amplified Bible adds, "praying perseveringly"; I would say that is don't give up! He said ask, so we call for His provision to be dispensed; then He says seek, which by the use of Hebraism incorporates to worship God; is this not similar to what Philippians 4:6 tells us when it says, "in everything by prayer and supplication, with thanksgiving, let your requests be made known to God." And finally He says knock, we reverently linger at heaven's door until it opens! The Amplified Bible points to a continuation saying, "keep on asking… keep on seeking…keep on knocking…" And always remember to petition "according to His will", and then check the motivation behind our request: James 4:13 says, "You ask and do not receive, because you ask amiss, that you may spend it on your pleasures." God never promised to answer our petitions to gratify "the lust of the flesh, the lust of the eyes, and the pride of life…" 1 John 2:16.
Just pray
By Rose Hill
God said to pray and pray without ceasing,
So I won't stop even with troubles increasing.
I want to obey all that He commands,
And give my life to fulfill His plans.
I believe in Jesus and what He claims to be,
So I ask in His name and He answers me.
Unless otherwise stated Scripture quotations are from the New King James Version copyright 1982 by Thomas Nelson Co. used by permission.