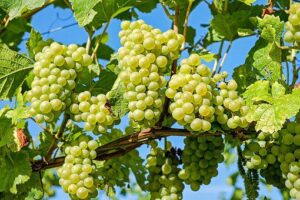 Jesus was journeying from Judea to Galilee and "He needed to go through Samaria" John 4:4, even though the Jews and Samaritans did not get along too well. While the most direct route went through Samaria He had a much more urgent reason to pass through that area. There was a harvest of souls there to be reaped. (Possibly a preview of the time the disciples would be sent "into all the world" Mark 16:15). In Luke 10:2 He said, "The harvest truly is great, but the laborers are few; therefore pray the Lord of the harvest to send out laborers into His harvest." Back in John 4 the disciples went to buy food while He sat by the city well, and when a woman came for water He broke into conversation with her; upon returning, the disciples marveled that He was talking with her, then as He talked with them we see that to Him her soul was more important than reputation, or even the food they had brought! He then says in verse 35, "Do you not say, There are still four months and then comes the harvest"; never miss the opportunity of reaping for the kingdom of heaven by saying the time is not now, it is sometime in the future! He then continued, "Behold, I say to you, lift up your eyes and look at the fields, for they are already white for harvest." Hunger and thirst are often associated together, and speaking of our inner cry hunger and thirst can be interchangeable. There is a hungry, thirsty world out there seeking satisfaction in the "water" of this world's pleasure where there is no lasting satisfaction; in drinking water from a natural well one soon becomes thirsty again, so it is with that inner craving, but Jesus promised those who ask for it, that His "water" would "become in him a fountain of living water springing up into everlasting life", Verses 10, 13-14; that is continuous satisfaction! When we have drunk ourselves, we in turn need offer this water others, as Jesus said to the disciples in Matthew 14:16, "You give them something…"!
Hungry souls
By Rose Hill
The people are hungry they know not what for
They are seeking and seeking for something more.
They look to find it in pleasure,
And only receive a very small measure.
They are looking high, they are looking low,
Don't you have compassion for they don't know.
That in God is the way to joy and peace,
At His table there is a great feast.
Jesus said that we should give them something "to eat",
We are the ones who have the treat.
So we must be busy there is work to be done,
There are many lost ones many souls to be won.
Scripture quotations are from the New King James Version copyright 1982 by Thomas Nelson Co. used by permission.