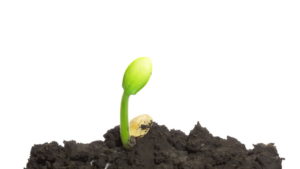 Prior to His crucifixion Jesus had been teaching His disciples that He would be put to death, resurrected, and would return to the Father in heaven, and they had most likely heard His response to the Pharisees about the coming of the kingdom of God which presently it is not observable with ocular vision, but "the kingdom of God is within you" Luke 17:20-21. That is a spiritual kingdom within those who receive it through Jesus. However they still had not grasped that the spiritual kingdom had to be established before the earthly kingdom could come; so in Acts 1:6-8 they asked Him, "Lord, will You at this time restore the kingdom to Israel?" to which He replied, "It is not for you to know the times or seasons which the Father has put in His own authority. But…you shall be witnesses to Me…" The two words "times" and "seasons" in the Greek are "Chronos" which is a period, duration, or length of time; and "Kairos", speaking to us of the kind or quality of time, the special things occurring during the time of chronos. There would be many signs indicating that the time of His coming kingdom is drawing near, but I see Him saying it is not your job to figure out the exact time of My return, or the establishment of the earthly kingdom; it is your job to be witnesses to Me until that time, as He said in Luke 12:43, "Blessed is that servant whom his master will find so doing when he comes." Don't be over-concerned as to the exact time of My return and the establishment of the earthly kingdom, but focus on building the spiritual kingdom and the winning of souls! Today we hear far too few sermons about the second coming of Jesus, and many of those talking about it seem more focused on the signs and the timing than on building the spiritual kingdom! Yes we should observe the signs He told us to watch for, which would signal the season, but they should be an incentive not to focus on them, but on the urgency of winning souls and building the spiritual kingdom until He comes, knowing the time of doing so is short!
An inner kingdom
By Rose Hill
The disciples were looking for an earthly king,
But Jesus came new life to bring.
The time of His earthly reign would come,
But first an inner work had to be done.
Yes He will come back to earth to reign,
His promise is "I will come again".
The signs of His return are all around,
So my we in His harvest field be found.
Scripture quotations are from the New King James Version copyright …1982 by Thomas Nelson Co. used by permission.