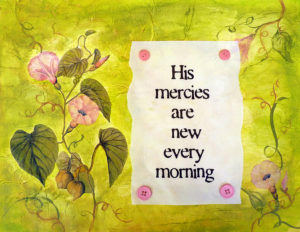 In Psalm 4:1 David's prayer was "Hear me when I call, O God of my righteousness!" Did God answer his prayer? Oh yes He did. In Psalm 40:1 he said, "I waited patiently for the Lord; And He inclined to me, And heard my cry" (He bowed down listening to my prayer). Interestingly, the words waited and patiently are both the same word in the original Hebrew, and they mean "to bind together" or figuratively "to expect". So if we align ourselves with His word and His ways, expecting Him to respond He will! The Bible says, "The eyes of the Lord are on the righteous and His ears are open to their cry" Psalm 34:15, 17. The righteous God is looking for those that walk uprightly in Christ Jesus who has "become for us wisdom from God – and righteousness, and sanctification, and redemption" 1 Corinthians 1:30. The only thing that will cause God not to hear our prayer is sin! Psalm 66:18 says, "If I regard iniquity in my heart, the Lord will not hear." He did not say "If I am less than perfect He will not hear", but "If I regard iniquity in my heart…" that is in my feelings, my intellect, and my will, If I approve of, love and willingly participate in, what God calls sin I cannot expect Him to hear my prayer; Isaiah 59:2 says, "But your iniquities have separated you from your God; And your sins have hidden His face from you, So that He will not hear." If you find yourself in this place today, listen to the good news from Isaiah 55:7 where God says, "Let the wicked forsake his way, and the unrighteous man his thoughts; Let him return to the Lord, and He will have mercy on him; And to our God for He will abundantly pardon." Then we can come boldly into His presence and have His ear; because of Jesus Hebrews 4:16 says, "Let us therefore come boldly to the throne of grace, that we may obtain mercy and find grace to help in time of need." Yes, "The Lord is far from the wicked, But He hears the prayer of the righteous" Proverbs 15:29.
God hears
By Rose Hill
Happy is the one who will trust and wait,
To hear our cry God is never late.
Our God will always incline His ear,
And answer us when we draw near.
When we delight to do His will,
Then our hearts desire He will fulfill.
Scripture quotations are from the New King James Version copyright …1982 by Thomas Nelson Co. Used by permission.